---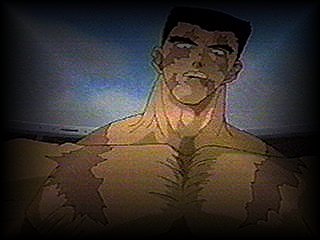 NAME
Bakken
ALSO KNOWN AS (A.K.A)
N/A
CLASS
Demon
FIRST APPEARANCE
Episode 38 - Ice Demon Touya
FIGHTING STYLE
Brute Strength
ARSENAL
N/A
SPECIAL TECHNIQUES
Bakken Fog - uses the moist created by his own perspiration and sets it into smoke and it creates a fog that blinds everything in its path.
PERSONALITY
Bakken is a member of the Mashou Tsukai team that fought Yusuke's team in the Ankoku Bujutsukai. He played with an unconscious Kurama for awhile before finally confronting with Yusuke. He uses his fog technique to gain the upper hand for sometime but Yusuke's rei gun cleared the smoke and Yusuke's devastating punches broke his bones and made him unavailable for the rest of the battle.
---

Please close this window [x] to return to the previous page. Enjoy!
---
Realm of Yu Yu Hakusho is made possible by M$M Interactive.
Any unauthorized use of the information, graphics or linking any type of content displayed in this page are strictly prohibited and considered illegal without permission, and that's the bottom line because the webmaster says so.
Copyright © 2000 M$M Interactive All Rights Reserved