---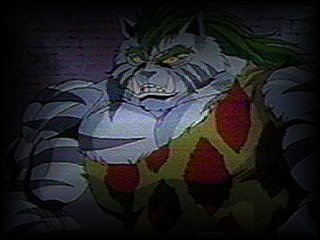 NAME
Byako
ALSO KNOWN AS (A.K.A)
White Tiger (Ghostfighter)
CLASS
Tiger Demon
FIRST APPEARANCE
Episode 16 - Sword of Courage
FIGHTING STYLE
Energy Absorption
ARSENAL
He can create mini-tigers with chunks of his hair.
SPECIAL TECHNIQUES
Mini-Tiger Unleashment - uses his hair to form mini-tigers that are as ruthless as he is.

Energy Absorb Technique - absorbs spiritual energy hurled into him and uses it for his own attacks. Too much of this however, is pretty hazardous for him.

Fireball of Destruction - unleashes a fireball from his mouth and disintegrates anything that touches it. Cannot be deflected.
PERSONALITY
Byako is one of the sacred demons that threatened the human world. Kuwabara faces him during their attack, but all his spiritual energy was drained by Byako's Energy Absorb Technique. However Byako had too much of this and he self-destructed... although he still survived to threaten them once more. He falls into the pit of lava after a right hand by Kuwabara, but still survived. Guess he has nine lives? But then he gets killed by his own comrade, Seiruu because of his multiple failures. Guess he only has three lives then.
---

Please close this window [x] to return to the previous page. Enjoy!
---
Realm of Yu Yu Hakusho is made possible by M$M Interactive.
Any unauthorized use of the information, graphics or linking any type of content displayed in this page are strictly prohibited and considered illegal without permission, and that's the bottom line because the webmaster says so.
Copyright © 2000 M$M Interactive All Rights Reserved