---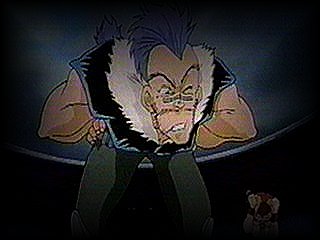 NAME
Chu
ALSO KNOWN AS (A.K.A)
N/A
CLASS
Demon
FIRST APPEARANCE
Episode 30 - Jaouen Satsuken
FIGHTING STYLE
Drunken Technique
ARSENAL
Bottles of Liquor
SPECIAL TECHNIQUES
Drunken Master - wobbles around like a drunk person that confuses opponents and gives him the advantage.

Energy Ball - Uses his spiritual power and forms a huge energy ball that he can hurl into opponents creating tremendous damage.
PERSONALITY
Chu is a member of the Rokuyukai team that faced Yusuke's team in the Ankoku Bujutsukai. He's one big drunk demon, that's all we can say. But he uses this weird style to his advantage, and when he faced Yusuke during their matchup, he gives him quite a tough time. Both fighters drained their spiritual powers and it was up to their physical capabilities to decide the winner. Chu is a strong physical fighter, and he can beat up opponents in a flash by just flexing his muscles. He also has a hard head to deal with.
---

Please close this window [x] to return to the previous page. Enjoy!
---
Realm of Yu Yu Hakusho is made possible by M$M Interactive.
Any unauthorized use of the information, graphics or linking any type of content displayed in this page are strictly prohibited and considered illegal without permission, and that's the bottom line because the webmaster says so.
Copyright © 2000 M$M Interactive All Rights Reserved