---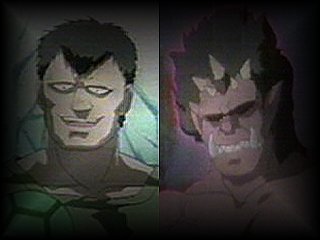 NAME
Goki
ALSO KNOWN AS (A.K.A)
Jerry (Ghostfighter)
CLASS
Demon
FIRST APPEARANCE
Episode 6 - The Stolen Relics
FIGHTING STYLE
Brute strength
ARSENAL
He has the ball of devourment within his grasp.
SPECIAL TECHNIQUES
Soul Swallow - he absorbs a lost soul from the ball of devourment which increases his strength.

Monster Transformation - his already muscle-bound body transforms into a horrible monster all the time doubling his offense and defense.
PERSONALITY
Goki was part of the three thieves (Kurama and Hiei) that stole the three relics of the spirit world. He has the ball of devourment, and he uses the devoured souls to make himself stronger. When he first met Yusuke he transforms into a creature and beats the crap out of him, but in their second confrontation Yusuke discovers that Goki's body was as hard as steel but it was the opposite situation inside. Goki dies upon being blasted straight through his mouth with Yusuke's rei gun.
---

Please close this window [x] to return to the previous page. Enjoy!
---
Realm of Yu Yu Hakusho is made possible by M$M Interactive.
Any unauthorized use of the information, graphics or linking any type of content displayed in this page are strictly prohibited and considered illegal without permission, and that's the bottom line because the webmaster says so.
Copyright © 2000 M$M Interactive All Rights Reserved