---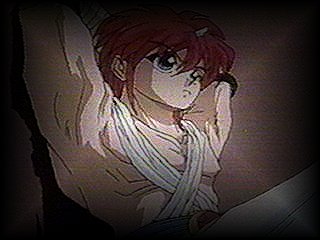 NAME
Jin
ALSO KNOWN AS (A.K.A)
Jinda (Ghostfighter)
CLASS
Wind Demon
FIRST APPEARANCE
Episode 36 - Reunion
FIGHTING STYLE
Wind Manipulator
ARSENAL
N/A
SPECIAL TECHNIQUES
Whirlwind - circles his arm and creates a whirlwind from it that blows off opponents.

Twin Whirlwind - circles both of his arms and creates two whirlwinds with twice the power of a single one.

Windy City - spins around and creates a humongous hurricane capable of blowing off anything or deflecting any attack.
PERSONALITY
Jin is one of the members of the Mashou Tsukai team that fought Yusuke's team in the Ankoku Bujutsukai. He faced Yusuke during their confrontation, and gave Yusuke a tough time as he displayed his powerful wind techniques that overcame almost every attack Yusuke unleashed. However later on he eventually succumed to Yusuke's spirit wave, but nevertheless had a magnificent matchup with him.
---

Please close this window [x] to return to the previous page. Enjoy!
---
Realm of Yu Yu Hakusho is made possible by M$M Interactive.
Any unauthorized use of the information, graphics or linking any type of content displayed in this page are strictly prohibited and considered illegal without permission, and that's the bottom line because the webmaster says so.
Copyright © 2000 M$M Interactive All Rights Reserved