---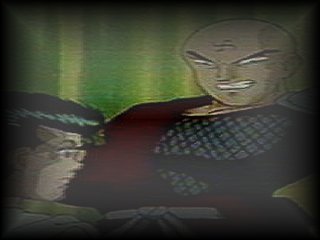 NAME
Kazemaru
ALSO KNOWN AS (A.K.A)
Kareem (Ghostfighter)
CLASS
Human
FIRST APPEARANCE
Episode 9 - Genkai's Competition
FIGHTING STYLE
Ninja
ARSENAL
Shurikens
SPECIAL TECHNIQUES
Strength Seeking Shurikens - Shurikens are unleashed that follows his enemy's spiritual power, making it impossible to evade.

Power Blast - a special technique he used in his first round opponent that knocks the enemies unconscious or gets his enemies killed once a direct hit is established.
PERSONALITY
Kazemaru was Yusuke's opponent in the semi-finals of Genkai's competition. Yusuke was exhausted during their match up and Kazemaru used his shuriken attack to wear him down. However, in Yusuke's desperate attack he suddenly disappeared which shocked Kazemaru, and he gets nailed by his own shuriken and gets beaten by his own game.
---

Please close this window [x] to return to the previous page. Enjoy!
---
Realm of Yu Yu Hakusho is made possible by M$M Interactive.
Any unauthorized use of the information, graphics or linking any type of content displayed in this page are strictly prohibited and considered illegal without permission, and that's the bottom line because the webmaster says so.
Copyright © 2000 M$M Interactive All Rights Reserved