---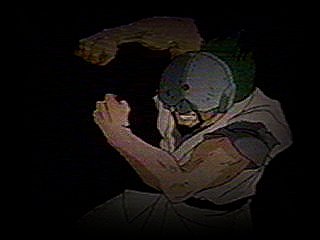 NAME
Kibano
ALSO KNOWN AS (A.K.A)
Arturo (Ghostfighter)
CLASS
Human
FIRST APPEARANCE
Episode 9 - Genkai's Competition
FIGHTING STYLE
Brute Strength
ARSENAL
Night vision gadget
SPECIAL TECHNIQUES
Power-Up - A powerful punch is unleashed knocking the enemy out and worth 175 points in the punching machine.
PERSONALITY
Kibano was one of the eight finalists of Genkai's competition. In the first round, he fights Yusuke, and gives him a hard time using his night vision helmet that gave him the advantage in the dark battle. Eventually Yusuke finds a way to see through this advantage and beats him.
---

Please close this window [x] to return to the previous page. Enjoy!
---
Realm of Yu Yu Hakusho is made possible by M$M Interactive.
Any unauthorized use of the information, graphics or linking any type of content displayed in this page are strictly prohibited and considered illegal without permission, and that's the bottom line because the webmaster says so.
Copyright © 2000 M$M Interactive All Rights Reserved