---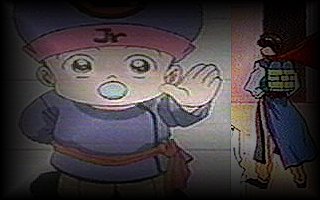 NAME
Koenma Daiou
ALSO KNOWN AS (A.K.A)
Koenma Sama
Jericho (Ghostfighter)
CLASS
Spirit
FIRST APPEARANCE
Episode 2 - Koenma and the Revival Process
FIGHTING STYLE
Toddler Power (duh)
ARSENAL
Koenma's only weapon is his pacifier that makes him very kawaii...
SPECIAL TECHNIQUES
Metamorphosis - his body changes from a baby to a young man when in the human world, and vice versa...

Pacifier energy - behind his very kawaii personality lies an immense energy stored in his pacifier for over thousands of years. The energy itself is enough to trap a class-s creature down to its knees, and revive a person back to life.
PERSONALITY
Koenma is the son of King Enma Daiou and is the prince of the spirit world. He administrates whether a soul is capable of reaching heaven or not, and he is also Yusuke's "boss" or so as he gives Yusuke all the missions he accomplishes as a spiritual world detective. At first we see him as a small baby with his pacifier stuck in his mouth, but later he transforms into his "alter-ego", a young man, more mature looking, but still with the pacifier in his mouth (uh). He later reveals the power of the pacifier in the Sensui saga, and throughout the series was the key information specialist for all the events and characters that transpired and appeared. Koenma's dream is... to get himself out of the loads of paperwork he must face everyday at his office..
---

Please close this window [x] to return to the previous page. Enjoy!
---
Realm of Yu Yu Hakusho is made possible by M$M Interactive.
Any unauthorized use of the information, graphics or linking any type of content displayed in this page are strictly prohibited and considered illegal without permission, and that's the bottom line because the webmaster says so.
Copyright © 2000 M$M Interactive All Rights Reserved