---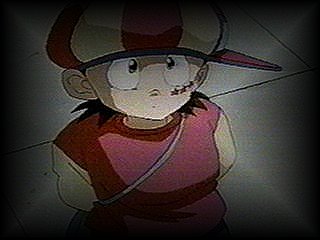 NAME
Rinku
ALSO KNOWN AS (A.K.A)
Ringgo (Ghostfighter)
CLASS
Demon
FIRST APPEARANCE
Episode 27 - The Journey
FIGHTING STYLE
YoYo Manipulation
ARSENAL
His toy Yoyo
SPECIAL TECHNIQUES
YoYo Strike - Uses his toy yoyo to attack opponents in any way he wants.
PERSONALITY
Rinku is a member of the Rokuyukai team that faced Yusuke's team in the Ankoku Bujutsukai. He looks like a kid, but he's got some deadly techniques to show in battle. He faces Kuwabara during their matchup with Yusuke's squad and beats him by an inch using his yo-yo techniques and a bit of intelligence.
---

Please close this window [x] to return to the previous page. Enjoy!
---
Realm of Yu Yu Hakusho is made possible by M$M Interactive.
Any unauthorized use of the information, graphics or linking any type of content displayed in this page are strictly prohibited and considered illegal without permission, and that's the bottom line because the webmaster says so.
Copyright © 2000 M$M Interactive All Rights Reserved