---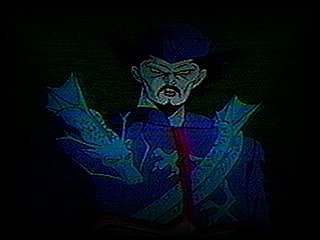 NAME
Seiruu
ALSO KNOWN AS (A.K.A)
Blue Dragon (Ghostfighter)
Yui (Fushigi Yuugi.. no just kidding)
CLASS
Ice Demon
FIRST APPEARANCE
Episode 18 - Fire and Ice
FIGHTING STYLE
Ice Barrage
ARSENAL
Ice Fists
SPECIAL TECHNIQUES
Frozen Assault - unleashes a barrage of ice shards that freezes anything it touches, making them as brittle as pop corn.
PERSONALITY
Seiruu is one of the sacred demons that threatened the human world. He kills one of his comrades, Byako for failing to defeat Yusuke and the rest previously. Hiei gets to fight with him and, although gaining the upper hand in the first part of their battle, Seiruu gets killed without any challenge after Hiei uses his hyperspeed and his multi-slash assault that ended his life.
---

Please close this window [x] to return to the previous page. Enjoy!
---
Realm of Yu Yu Hakusho is made possible by M$M Interactive.
Any unauthorized use of the information, graphics or linking any type of content displayed in this page are strictly prohibited and considered illegal without permission, and that's the bottom line because the webmaster says so.
Copyright © 2000 M$M Interactive All Rights Reserved