---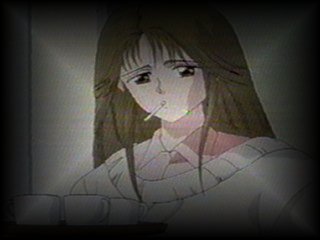 NAME
Shizuru Kazuma
ALSO KNOWN AS (A.K.A)
Suzzie (Ghostfighter)
CLASS
Human
FIRST APPEARANCE
Episode 22 - Yukina
FIGHTING STYLE
N/A
ARSENAL
Cigarette
SPECIAL TECHNIQUES
Spiritual Sense - she has the capability of sensing danger and does the proper precautions.
PERSONALITY
Shizuru is Kuwabara's older sister, and being the older one she gets to take care of his younger brother more often. She always cares for him, although she doesn't show it literally, and she always forces Kuwabara to study and get a good education. She is also a cigarette hog, by the way. She gets infatuated with Sakyou during the Toguro tournament, but then loses him later on. She's got some strong guts and would do anything for her brother or Keiko's sake.. (she likes Keiko)..
---

Please close this window [x] to return to the previous page. Enjoy!
---
Realm of Yu Yu Hakusho is made possible by M$M Interactive.
Any unauthorized use of the information, graphics or linking any type of content displayed in this page are strictly prohibited and considered illegal without permission, and that's the bottom line because the webmaster says so.
Copyright © 2000 M$M Interactive All Rights Reserved