---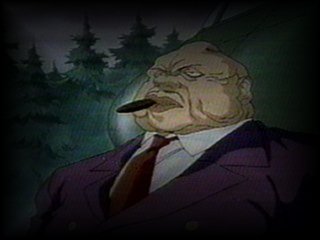 NAME
Tarukane
ALSO KNOWN AS (A.K.A)
Don Paquito (Ghostfighter)
CLASS
A hideous-looking human
FIRST APPEARANCE
Episode 22 - Yukina
FIGHTING STYLE
N/A
ARSENAL
This space is not enough to enumerate millions worth of his properties.
SPECIAL TECHNIQUES
N/A
PERSONALITY
Tarukane is the old, greedy and ugly corrupt businessman that kidnapped Yukina and forced her to cry for pearls for his business to bloom. He's so rich that besides his own private mansion, own private forest and several of business billionares as his associates, he also is raising very rare monsters so powerful it could kill people in a single blow. However this monsters were disposed by Toguro easily... At the end Tarukane loses all his property when he lost the gambling game with Sakyou.. and loses his life courtesy of Hiei.. or so.
---

Please close this window [x] to return to the previous page. Enjoy!
---
Realm of Yu Yu Hakusho is made possible by M$M Interactive.
Any unauthorized use of the information, graphics or linking any type of content displayed in this page are strictly prohibited and considered illegal without permission, and that's the bottom line because the webmaster says so.
Copyright © 2000 M$M Interactive All Rights Reserved