---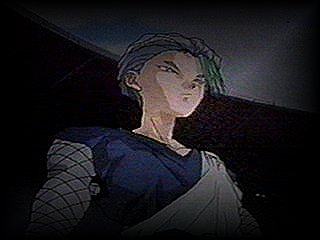 NAME
Touya
ALSO KNOWN AS (A.K.A)
Toryo (Ghostfighter)
CLASS
Ice Demon
FIRST APPEARANCE
Episode 37 - The Curse of Evil
FIGHTING STYLE
Ice Manipulator
ARSENAL
N/A
SPECIAL TECHNIQUES
Sheds of Ice - sets a region on ice which brings the whole area to his advantage.

Icicle Attack - unleashes multiple icicles that attacks the opponent like a barrage of daggers dealing tremendous damage.

Ice Sword - creates a sword of ice from his fist and uses it to slice off opponents in a breeze.
PERSONALITY
Touya is one of the members of the Mashou Tsukai team that fought Yusuke's team in the Ankoku Bujutsukai. He faced Kurama in their confrontation, and for most of the time had the upper hand because of the status effects caused by Gama on Kurama's earlier battle. However at one point Kurama found the opening and that caused Touya's defeat. Kurama spared his life though.
---

Please close this window [x] to return to the previous page. Enjoy!
---
Realm of Yu Yu Hakusho is made possible by M$M Interactive.
Any unauthorized use of the information, graphics or linking any type of content displayed in this page are strictly prohibited and considered illegal without permission, and that's the bottom line because the webmaster says so.
Copyright © 2000 M$M Interactive All Rights Reserved